The vehicle singing series is a regular feature on The Late Late Show with James Corden on CBS.
Yes, he can drive his vehicle.
"I got a fucking text from him [the next day]", he said. "Just let it be", he said she told him in the dream - which of course then inspired the famous song.
A special United Kingdom edition of Carpool Karaoke took an emotional turn as Sir Paul McCartney joined James Corden on a trip to Liverpool.
As Corden brings The Late Late Show to United Kingdom shores, the presenter and actor enlisted the nation's ultimate music export Paul McCartney for a sing-along in the passenger seat.
The Beatles legend gamely rode shotgun for an epic edition of Carpool Karaoke - running more than 20 minutes - that aired on the final night of The Late Late Show's week of London-based shows.
As he led Corden through the home (even sitting down at the piano to sing "When I'm 64"), he told Corden how his father had critiqued "She Loves You", suggesting they replace the "yeah, yeah, yeahs" with "yes, yes, yes". "I'll never ever forget it. Take a breath and jump in", Corden tweeted on Thurs.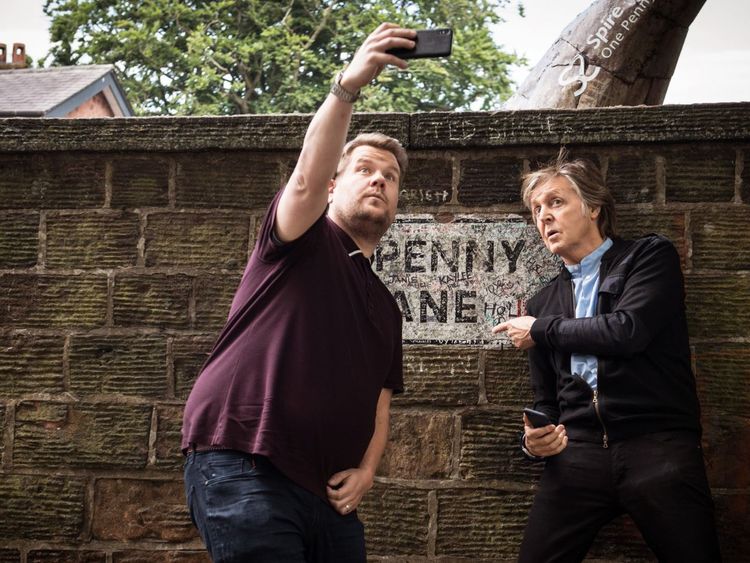 Image Sir Paul and James Corden in Penny Lane. Pic Twitter/@latelateshow
Corden replied, "That's the most handsome story I've ever heard".
Shocking the homeowner with an impromptu visit, McCartney shows Corden around the house.
"So, I wrote the song, 'Let It Be, '" McCartney concluded.
He agreed, saying: "We expected it to last 10 years, but it keeps going on, and on, and on".
The guys then ended up at a pub where Paul surprised the locals by performing several songs for an emotional crowd.
After unsuspectingly picking a Beatles song and returning to her table, the bargoer - and everyone else in the place - was shocked when large heavy curtains around the pub's stage suddenly opened revaling McCartney and a full band, who broke out in a performance of "A Hard Day's Night".
More news: Italy's Osteria Francescana Scoops World's Best Restaurant Prize
More news: MTV Announces Plans To Reboot 90s Series 'Daria'
More news: Melania Trump Spokeswoman Responds to 'I Really Don't Care' Jacket Report