It also features the Black Prince's Ruby, believed to have been worn by King Henry V in his helmet at the Battle of Agincourt in 1415.
And now, in a new documentary arranged by the Smithsonian Institute, the Queen is spilling some age-old secrets.
Royal commentator Alastair Bruce discovered the true story of the jewels' whereabouts during the war by reading confidential correspondence in the Royal Collection.
He told The Times: 'What was so lovely was that the Queen had no knowledge of it. "Telling her seemed strangely odd".
From the pain of wearing the heavy Imperial Crown, through to the "uncomfortable" golden carriage, the Queen speaks about some of the hidden secrets behind the famous ceremony.
The documents describe how a hole was dug in chalk earth, which was covered to hide it from the enemy, and two chambers with steel doors were created.
In a candid interview for a BBC documentary about her Coronation, the Queen has revealed how the crown could have broken her neck.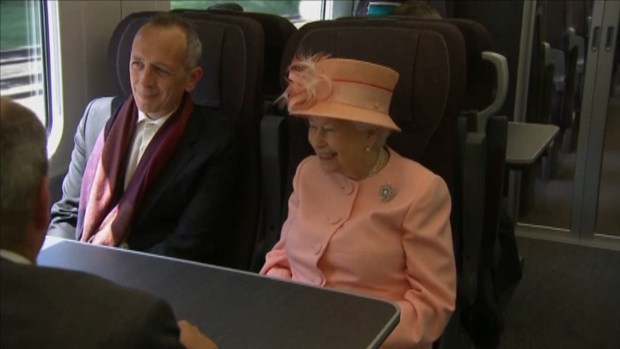 Queen Takes Train 175 Years After 1st Royal Ride
Giving her personal recollection, the Queen also revealed how she had struggled with her coronation dress, which was embroidered in silk with pearls, and gold and silver thread.
Later this year will see the 65th anniversary of the Queen's coronation - just one of the huge royal occasions of the year - we're looking at you Prince Harry and Meghan Markle.
She revealed the seven-metre-long (24ft) gilded carriage, which weighs nearly four tons and is pulled by eight horses, is not meant for travelling in at all.
"Because if you did [look down] your neck would break and [the crown] would fall off", the queen said, smiling as she tilted her head downwards. But once you put it on, it stays. [While] wearing regalia-that was designed for your forebear King Charles II-in 1661, including a crown that is five pounds in weight.:I just want you to imagine laying out five pounds of sugar bags and putting that on your head, but imagine it's a hat that is made to be too big for you.
Another eye-opening tidbit is finding out that how much the Queen hated her ride in the four-tonne carriage taking her from Buckingham Palace to Westminster Abbey.
"It's the sort of, I suppose, the beginning of one's life really as a sovereign", she said.
The BBC has partnered with the Royal Collection Trust for the Royal Collection Season, and the hour-long documentary, named The Coronation, will air in the United Kingdom on Sunday.
More news: Jacksonville, OR man wins $1000004 with Powerball ticket
More news: Ben Stokes included in England's Test squad for New Zealand tour
More news: Trump Declines to Deny That He's Racist When Asked at MLK Event